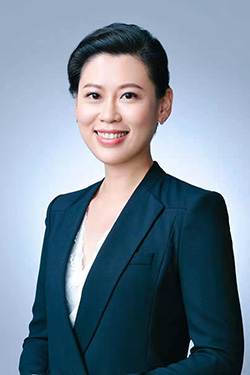 Crystal JIANG
DL Holdings Group Co-founder / Partner
DL Holdings Group        Co-founder / Partner
DL Holdings            Chairman of the Board / Executive Director
---
Ms. Crystal Jiang has over 18 years of experience in the financial and media industry.  She is the Co-founder, Partner of DL Holdings Group, and also the Executive Director and Chairman of the board of the listed company.
Prior to founding DL Family Office, Ms. Jiang was a Senior Vice President of J.P. Morgan Private Bank covering Hong Kong and China. Prior to her role at J.P. Morgan, Ms. Jiang was the Senior Vice President of Standard Chartered Private Bank and HSBC Private Bank. Ms. Jiang is also the founding member of PBEC (Pacific Basin Economic Council) China Chapter and serves as a board director.
Prior to joining Standard Chartered and HSBC, Ms. Jiang was a TV host at Phoenix Television, anchoring financial, current-affairs and social programs including "News Talk Today", "International News Reporting' and "Going Around China". Ms. Jiang was the Champion of "Miss Chinese Cosmo Pageant 2003".
Ms. Jiang graduated from the Advanced Management Development Program from Harvard University Graduate School of Design. She holds a master's degree in Media Management and Social Science from Hong Kong Baptist University and a bachelor's degree of Arts in Communication, International Journalism and English Broadcasting from Communication University of China.