Corporate News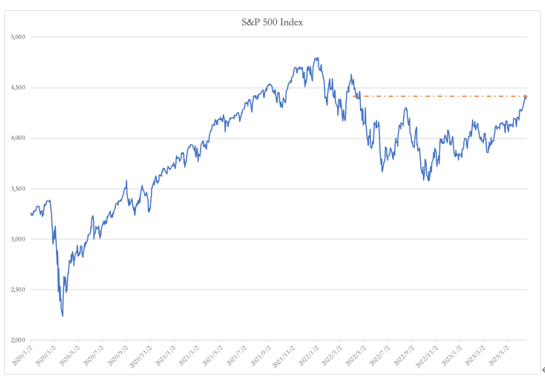 How Long Will the Artificial Intelligence Boom Last?
25 Jun 2023
Since the start of the year, the S&P 500 index has experienced a remarkable surge, surpassing a 14% increase and positioning itself for one of the strongest performances in nearly two decades during the first half of the year. On June 20th, the S&P 500 index closed at 4,389 points, surpassing levels observed prior to the first interest rate hike by the Federal Reserve on March 16th, 2022. In September 2021, an article titled
"Are U.S. Stock Valuations Too High?"
was penned, briefly examining the application of the widely utilized discounted cash flow model in stock valuation methodologies and emphasizing the importance of monitoring fluctuations in risk-free interest rates. At that juncture, a forecast was made suggesting that the Federal Reserve's withdrawal from quantitative easing and subsequent rate hikes would have adverse effects on both equities and bonds. As anticipated, in 2022, the Federal Reserve commenced the reduction of bond purchases and implemented a series of interest rate hikes, resulting in a significant market correction with the S&P 500 index declining from its pinnacle of 4,797 in January to a trough of 3,577 in November, marking a notable adjustment of 25%.
Read More